Rainbow has been really excited about having pumpkin seeds. The last thing she said to me when heading to bed last night was, "Mom you're going to cook those seeds while I'm sleeping, right?"
Yes, I know Halloween is over… but that just means that there are lots of leftover pumpkins lurking around for dirt cheap. Also, I'm fond of the smaller, sweeter, pie pumpkins which are to be found this time of year. Time to hit the market!
1. Cut open and gut your gourd.
2. Separate seeds from the pumpkin goop.
3. In a bowl mix about a tablespoon of salt to two cups hot top water. Add the seeds and soak them for an hour or two. The seeds will float on top, no worries, they are soaking up the salty goodness.
4. Lay the seeds out in a single layer on wax paper and let them dry overnight.
(I know, it's hard to wait overnight but they really do taste ever so much better if you allow them to dry out.)
5. Line a baking sheet with parchment paper or aluminum foil and preheat the oven to 300 degrees F
(I just flipped it over and reused the same sheet of wax paper)
6. In a small dish mix olive oil or melted butter with whatever seasoning you prefer
(Some suggestions: sugar, pumpkin spice, nutmeg, cinnamon, garlic salt, or a dash a cayenne –no not all together).
7. Toss the seeds in the dish and stir to coat.
8. Place seeds in single layer on lined baking tray.
9. Bake in 300 degree oven, stirring occasionally. Just wait until they start to smell fantastic and are just barely golden brown. (about 45 mins) then turn the oven off and let them stay in the oven another 45 mins or so.
(I just turned the oven off and headed to bed and woke up today to toasted seed goodness!)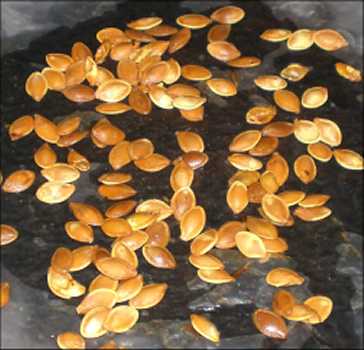 They should look nice and brown, like this.
You will need to adjust the amount of oil, depending on how many seeds your pumpkin yields. 1 tablespoon of oil to every cup worth of seeds should be about right.
Disappointingly our Jack-O-Lantern pumpkin didn't yield many seeds. We ended up with less then half a cup worth. Still well worth your time when you're going to be gutting the pumpkin anyway.
I love pumpkin seeds but find the store bought ones very chewy. These were SO good. Not chewy at all. They just sort of crunch and dissolve in your mouth. I seriously can't wait to make more. Now I just need to come up with something to do with the rest of the pumpkin.
The finished product.
Hey, did you know you can also toast the seeds found in other squash? Like acorn and butternut, for example.
With the smaller seeds from squash cook them at a slightly lower temp (275 degrees) and bake for about 15 minutes, or until seeds start to pop.
What's your favourite way to flavour pumpkin seeds? Have you ever tried toasting seeds from other types of squash?