With four long haired family members, we've got a whole lot of hair going on. Care to imagine what my bathtub drain looks like? And yes, my kids are still crazy obsessed with mama's hair and with hair hugs.
Here we have some photos where my five year old helper tried to capture her little sister attacking me a hair hug in progress.
Well, at least she looks happy.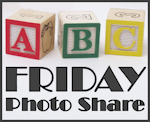 Hugs, how-to's and homes?
Horrible, haughty or happy posts?