One of the many reasons I'm crazy about Adult Essentials is the fact that I've finally found vitamins my husband will actually take. For years now I've been buying vitamins for my husband in hopes that he would take them…. and then eventually tossing them away as they expire. I had pretty much given up hope when Adult Essentials came on the scene.
As I was writing this post I thought about asking my hubby why he's finally taking his vitamins, but then decided I didn't want to jinx myself. So I am guessing here, but I think the reason is that Adult Essentials gummy vitamins taste fantastic. But it could be because they're so easy to swallow, or the fact that he can just grab them off the sideboard and chomp them down without fetching a glass of water.
 Adult Essentials pectin based gummy vitamins are:
approved by Health Canada
gluten free, nut free, dairy free
made with natural flavours and colours
delicious
Adult Essentials are available online at Well.ca as well as at most
Rexall, Metro, Sobeys, Real Canadian Super Stores/Loblaws, London Drugs
and Shoppers Drugmarts.
To learn more about Adult Essentials Gummy Vitamins:
– visit their web page.
– connect with them on Facebook.
– connect with them on Twitter.
Thanks to Adult Essentials, Multi-Testing Mommy, and some fabulous fellow Canadian bloggers, I'm co-hosting this special Dads Deserve to be Healthy Giveaway.
WIN IT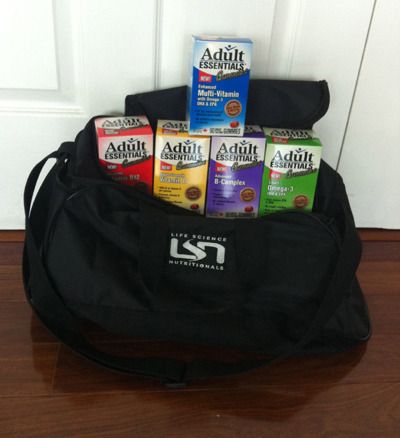 One lucky Canadian is going to win
a handsome monogrammed black gym bag
FULL of Adult Essentials,
perfect for that important Dad in your life.
 This giveaway is open to Canada only.