I am not even going to get into my own mixed feelings towards the colour pink (think petulant and pessimistic).  Nope, today it's all about Rainbow. She who would be perfectly happy covered head to toe in pink. She who is constantly pushing. Pushing her boundaries, pushing my buttons.
Here she is in her pink backpack on a perfect spring day insisting that she lead the way to the bus stop.
As we wait for the bus she pretends while perching on a "hilltop" and prances around the tree….

…and runs and plays in the grass, being the picture perfect big sister.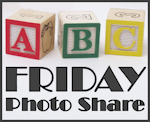 Perchance for the powerful, poetic, or punny?
Got the perfect "P" photo to share?