Of course when my kids tell them they sound more like…
Knock Knock
Who's there?
A nana, nana.
A nana, nana who?
A nana and a cracker and a tomato together walking…
No, really…
This is my three year old Baby-G. Kid can't stop kicking and moving about, not even while telling her special knock knock jokes. Plenty of kinetic energy to burn, this one.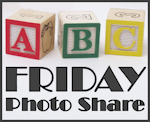 Know a thing or two about the letter K?
Feeling Kind, care to share a Kiss? or tell us about your Kids?