VIA Rail is my very favourite way to travel. I will not of my own volition take an airplane when train is a valid option. I love sitting by the window, watching the world go by, drinking a coffee and writing on my netbook (or more realistically based on my last few trips, chatting with a friend and fellow blogger). It's one of my favourite places to be.
I took this photo through the window on a moving train via iPad, so not bad, eh?
So cool to look out the window and see these old train cars parked and transformed into art.
What about you guys? Plane, train or automobile? Which is your very favourite way to travel?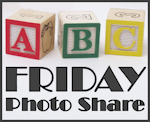 Vacation recap? A veal recipe? A vlog?
View a Variety of venerable "V" posts