T is for table laid out with tasty treats.
We did a little taste testing with some of the goodies hubby and I brought back from our trip to the Food Bloggers of Canada Conference last month. (Thank you Tree of Life!) And I thought this would be a good time for trying out some of the new photography tips I picked up at the event.
So tell me, are my new photo taking tricks working? Am I tempting you at all?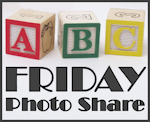 Thrilling adventures, or Tantrums and Terrible twos?
Tell us your Tall "T" tales!