I is for impatience, which is what I feel. Impatient for spring, for the snow and the ice to just go away. From the Facebook updates and blog posts I read, it seems like the rest of Canada is covered in a magical winter wonderland, while I am living in a wet, dirty, land of cold and grey. No proper snow, just muck and ice. Hardly inspiring, it's actually quite irritating.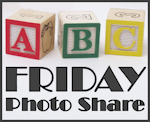 Feeling imaginative?
Have an ideal I post to share?